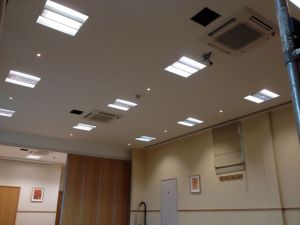 Save Money by Heating with Air Conditioning
11/01/2017
Can Air Conditioning save you money?
In short, YES! Air Conditioning will save you money when used to heat a building…
With the first few frosts of Winter 2017 behind us, we have seen a large increase in customers using their Air Conditioning (AC) systems for heating their premises. We have also had many potential customers asking for quotes to install new equipment. Whether that be Coffee Shops, Offices, Restaurants or Hotels, the principle remains the same – Air Conditioning can save you money. It is also more common place in the Domestic marketplace so this could also apply to you.
Most, if not all buildings will already have a central heating system for hot water & radiators, however with the advances in modern technology and energy efficiency most end users will be able to save money by switching off the more traditional wet heating systems and instead using AC to heat their premises. AC is one of the most efficient ways of heating an area and can save you considerable money on running costs over a central heating system during its life span.
AC is usually more expense to install than a central heating system, however with many modern AC systems also on the Government backed Enhanced Capital Allowance (ECA) scheme, it means that you can claim 20% of the total installation cost back by lowering your company tax allowance by that 20%. So, for example if you installed £5,000 of AC that is ECA Approved you would be able to lower your tax liability by £1,000. The key thing here is the ECA bit, not every system is on the list and it is worked out using SEER (Seasonal Energy Efficiency Ratio) & SCOP (Seasonal Coefficient of Performance) readings. The ECA Scheme doesn't really apply to the Domestic sector but it does give you a very good indication of how efficient these AC systems really are & how much money you could save on running costs.
Please see here for further details: https://www.gov.uk/guidance/energy-technology-list
If the AC system you would like to purchase is on the list, then you have piece of mind that your system is one of the most efficient on the market & your running costs will be significantly reduced.
Now, back to saving money on running costs. If you were to use electrical heating, then the cost savings are even greater. If you take a 1kw electrical heater, this will need 1kw of electricity to produce 1kw of heat where as some of the better performing AC equipment can give returns of 6kw heat output for just 1kw of electricity! That is a huge cost saving and one that shouldn't be overlooked when deciding on how to heat your building.
If you own or run a premises with an electrical air curtain, imagine how many £££'s worth of heat you are pumping to the outside world all day every day, now imagine the money you could save by changing it to an AC system such as this: https://airconditioning.mitsubishielectric.co.uk/News/Pages/Energy-efficient-heat-pump-air-curtain-now-added-to-Energy-Technology-List.aspx
There really are plenty of benefits to switching to AC for heating. Of course, Air Source Heat Pumps & Ground Source Heat Pumps are even more efficient than traditional AC, however you wouldn't have the benefit of Cooling mode in the Summer months so AC really is an all round solution to creating a nice environment that doesn't cost the earth.
So whether you are looking to save money on running costs or if your traditional system has broken down and needs replacing, we believe AC could be the solution for you. Please contact us on 01793 512 550 for any further information or to obtain a quote. For our areas of work please see http://www.carltonservices.co.uk/services/ but please note that we are able to supply equipment Nationwide via https://www.carltonsales.co.uk/air-conditioning-equipment.html
Thank you for taking the time to read this blog, if you liked it, please don't forget to Share!