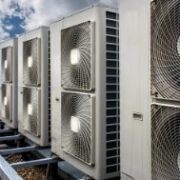 Commercial & Domestic Air Conditioning Units
We have been repairing & installing air conditioning systems for over 40 years, with the demand now greater than ever it is very important to get the right system for your requirements, so let our experience help you with your purchase.
We supply a range of air conditioning equipment from the leading brands, including: Mitsubishi Electric, Daikin, Fujitsu, Mitsubishi Heavy Industries & Hitachi. We have something for every setting and budget, from portable air conditioning units to wall mounted air conditioning, ceiling cassettes and all-in-one packages.
The split system air conditioning systems can also be purchased with everything you need for a full installation. With convenient purchasing online, speedy delivery and top quality products at competitive prices; we are the supplier of choice for businesses large and small across the UK.
For a rough guideline on the size of air conditioning system you will need for the size of room you have, please see the below table:
| | | | | | | | |
| --- | --- | --- | --- | --- | --- | --- | --- |
| | watts per m2 | 2.0kw | 2.5kw | 3.5kw | 5.0kw | 6.0kw | 7.1kw |
| Living Room | 125 | 16m2 | 20m2 | 28m2 | 40m2 | 48m2 | 56m2 |
| Home Office | 125 | 16m2 | 20m2 | 28m2 | 40m2 | 48m2 | 56m2 |
| Kitchen | 125 | 16m2 | 20m2 | 28m2 | 40m2 | 48m2 | 56m2 |
| Bedroom | 125 | 16m2 | 20m2 | 28m2 | 40m2 | 48m2 | 56m2 |
| Loft Bedroom | 150 | 13m2 | 16m2 | 23m2 | 33m2 | 40m2 | 47m2 |
| Conservatory | 200 | 10m2 | 12m2 | 17m2 | 25m2 | 30m2 | 35m2 |
| Garden Room | 200 | 10m2 | 12m2 | 17m2 | 25m2 | 30m2 | 35m2 |