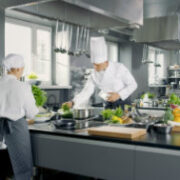 Catering Equipment
For over 40 years we have supplied commercial catering equipment to a wide range of companies. From small, independent restaurants to large hotels and government buildings; we provide quality, reliable catering equipment at reasonable prices across the UK.
Professional cooking equipment is the heartbeat of any commercial kitchen or catering setup. Whether it's a small village café, a bustling food kiosk or a popular restaurant, this selection of commercial catering equipment features machines that save you time, energy and money. From commercial microwaves to cooking ranges, fryers, salamanders and even glasswasher & dishwasher equipment, kit your kitchen out with some of the highest regarded brands.
This extensive category also includes items designed to excel in every professional catering situation, including reliable catering barbecues for busy outdoor events, rice cookers for high-margin takeaway meals or simply commercial toasters to expand your breakfast menu.
You can be assured we have a solution for you with our 40 years of experience in the trade.