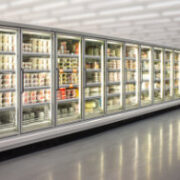 Refrigeration Equipment
We have supplied commercial refrigeration equipment to a diverse range of companies for 40 years. From small, local restaurants to large hotels and government offices; we provide quality, reliable refrigeration products at reasonable prices across the UK.
A commercial fridge is considered to be one of the most important items in the professional kitchen. The chances are, if you're handling fresh food on a regular basis you'll require a commercial refrigerator to reduce waste and comply with food hygiene legislation.
We have a huge selection of reliable upright commercial fridges, prep counters, meat fridges, multideck's, walk in fridges & walk in freezers and much more – all in sizes and configurations to match wherever they're going to be installed. Whether you're looking for a small undercounter fridge for behind the bar or a double door fridge or double door freezer for your weekly deliveries, there's plenty of choice right here.
With over 40 years in the trade you can be assured that we have a solution for you.