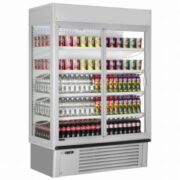 Multideck Display Fridge
Regardless of which sector your business operates in if you sell food or drink, multideck display fridges are essential. Convenience, impulse and brand image are driving consumer demand for instant access to their favourite products. To keep your products fresh and showcases them in the best light use a reliable multideck fridge to create an attractive, mouth-watering display that satisfies your customers' appetites.
They have to be quick to restock to ensure you always have plenty of your best-selling items on display so your customers can grab and go, and this is where multideck display fridges are essential pieces of refrigeration equipment. Our range of multideck display fridges are available in a range of shapes, sizes, capacities and some suppliers even offer merchandising options to help you make the most of your chilled food and drink displays. Whether you are looking for a Slimline multideck, a Low Height Multideck or a normal Multideck, we have an option for you.
Multideck Fridges – or multi-tiered display refrigeration – are used by a huge range of food and drink retailers and catering suppliers to display products in a way that's as eye-catching as it is convenient. Multidecks feature multiple shelves to create a chilled, tiered display that is easy to get to, attractive to customers and shows off products in the best light. They are available with glass doors or open-fronted, with a wide choice of configuration options to give you control over the shopping experience you want to offer your customers.
Multideck display fridges are ideal for the impulse 'grab and go' purchases, but can also be used to showcase a range of dairy products, fruit and vegetables, fresh meats and general-purpose food and drink items. We have an extensive range of quality plug-in multideck display fridges, most are ready for immediate delivery, meaning your refrigerated display can be up-and-running in no time, enabling you to trade straight away. Some of our products offer large merchandising choices, attractive design and internal lighting options with a choice of door types, shelving, end walls and finishes to help you maximise your displays for maximum product impact.
Showing 1–12 of 58 results
Showing 1–12 of 58 results