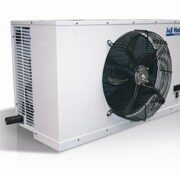 Cellar Cooling Systems
Cellar Cooling systems maintain temperatures required for beer and wine cellars. Our Cellar Cooling systems include several high-performance options as well as cost-effective and reliable refrigeration, suitable for the pub environment – whether you are a pub tenant or a large pub operator.
They can also be used to prolong the life of fresh fruit and vegetables, flowers, dairy products and other items requiring a temperature-controlled environment. All of our refrigeration systems use environmentally-friendly refrigerants, making them compliant with the latest legislation.